This documentation outlines the features and benefits of the offer without expiration date. This feature enables CPOs to make pricing changes within a defined lead time, providing them with greater control and agility in their pricing strategies.
THIS FEATURE IS ONLY AVAILABLE FOR NEXT GENERATION PRICING OFFERS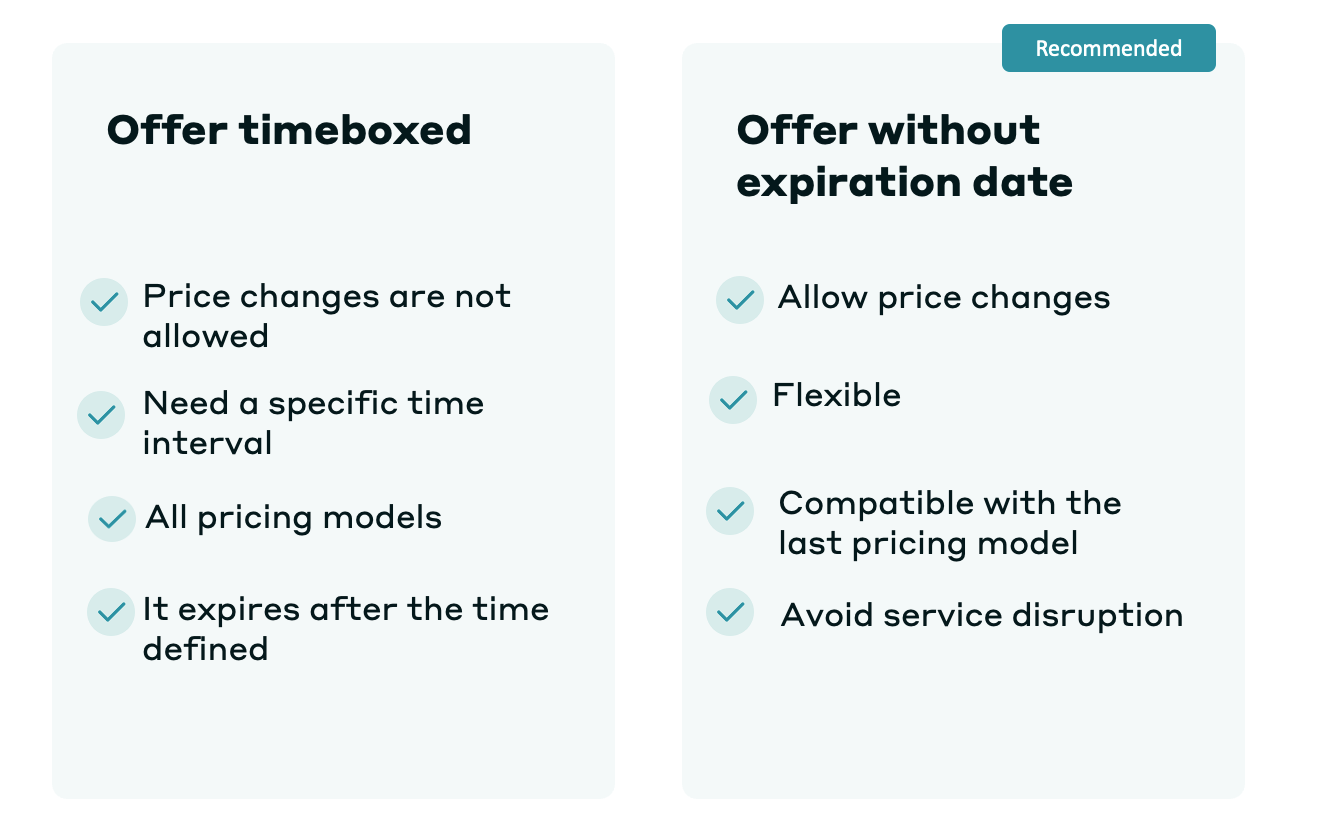 The offer without expiration date empowers CPOs to modify their prices within a predetermined lead time. It addresses the need for businesses to adapt quickly to market dynamics, competition, and customer demands.
Pricing changes: CPOs can make frequent pricing adjustments allowing them to test and refine their pricing strategies.
Defined lead time: A specific lead time is established, within which pricing changes can be implemented. During this lead time the EMPs can accept the pricing modifications.
Check out here how to publish an offer without an expiration date.
How can prices be updated?
Once the offer has been created and is active, an Update prices button will appear in the offer detail view.

The system, by default, sets a minimum lead time of 15 days. You may select this minimum time or increase it according to your needs. The lead time starts counting from the day after the price changes are applied.
Please note that it's only possible to switch and reuse existing EVSE groups. Set up new EVSE groups before updating your prices to use new EVSE groups.
Once the new prices are applied the Hubject platform will send a notification to all EMPs subscribed to this offer. This notification will inform the EMPs of the lead time you set and ask each EMP whether they accept or decline the new prices.
What happens if the EMP does not accept or declines the new pricing?
If the EMP does not accept or declines the new pricing, the status of the offer will switch to pending the day the new prices take effect and the previous prices will be shown as a cancelled offer. As soon as the new prices are accepted, the EMP will be subscribed to the new pricing.
I have set up new prices, where can I find the previous ones?
Click on the link Show previous offer included in the offer detail view and the previous prices will be shown. You will be able to view all your previous prices from unlimited offers here.